Our Magic
Featured Product
Clear plastic box has a slot in the top. Any coin put inside can not be removed by others, but you…
These decks are great for making up your own effects, or for use in effects that you already…
These sunglasses are specially designed with a mirror coating on the inside which lets you see in…
4 Easy to do tricks!
For beginners, includes: Cups and…
There are many clever effects where a pen penetrates through a paper bill. This one is excellent…
These streamer coils enable you to produce a long chain of paper from your mouth,…
A magic wand is probably the first prop every magician buys. The standard magic…
Magician shows a handsome clear plastic rod with six different colored gems on it.…
Written by Burling Hull, one of the world's greatest authorities on the subject. The 65…
Practical Mental Effects without a doubt is the most popular book ever written on the subject.…
This is sensational! Insert a blank piece of paper into the machine, turn the knob, and from the…
You can tell which card is reversed while your back is turned. Explain you can tell which by…
This is an excellent beginner's set. You can do everything with it that you…
By Hugard. Sleights and tricks with coins including the Miser's Dream using…
Tom Osborne wrote this definitive book of cups and balls magic many years ago and it is still…
Two books in one by Alton Sharpe, the author who is famous for compiling the best routines by the…
The name speaks for itself! Alton Sharpe has compiled a 195 page book filled with the best card…
The author of this successful book is one of the most prolific writers on magic of his…
Soft cover book, 5.5" x 8.5" pocket book size, with 48 printed pages…
Here is a neat little book that's ideal for magicians who want to introduce a card gambling theme…
Hugard and Braue are undisputed authorities on card tricks. The Royal Road…
By John Scarne. This wonderful book was written in the mid 1930s when prohibition…
By Robert Parrish and John Goodrum. Illustrated by Nelson Hahne. Originally published…
A short piece of rope passes through a plastic frame. The center of the frame…
Make a flower blossom at the end of a barren stalk, or make a flower vanish from…
The magician takes a box from his pocket. The box has a cut out window on top and…
Under which shell is the pea?? No one can guess which one as you transfer the pea secretly!
The pages of this book contain the best tricks from the best brains in magic – not just any…
LePaul was one of the 20th century's most admired card technicians. This book, consisting of over…
So much magic happens with this great new trick deck. The Performer always cuts to the Ace when…
The latest update of this classic trick. A revision of Al Stevenson's 75 tricks book, with over…
Sure and safe! This coin holder holds four Half Dollar coins, or coins of similar size. It…
Think of all the things you can do with this little plastic horn. It's great for parties, sporting…
By Hugard & Braue. This classic book could be the most definitive ever written for the…
Performer waves a magic wand, which is red with gold tips, over a trick, but…
The Magic Coloring Book is the perfect effect for children's shows. A large coloring book is…
Also available: Houdini, Blackstone, Thurston, and Magic Hands…
A large plastic needle with a thread loop fixed to one end is looped through the…
This is one of the most amazing close up "illusions" to have appeared in recent…
A small easy to carry (fits in your pocket) visual effect, that makes a big…
4 Easy to do tricks! For beginners, includes: Mystic Money Paddle, Multiplying Money Tray,…
A superior version of the famous Floating Match effect made with Elastic IT, which will permit a…
Looks like a giant 6" nail goes through your hand. Includes bloody bandage.
A very easy item where the magician shows a pad of blank papers on both sides.…
#1 Cell Phone Gag! Make your friends think their phone screen is cracked. Place the phone…
The step-by-step instructions in this book will give you all the details on how to perform…
When you take a "bite" out of the cookie you can make it look like a piece of the…
A small coloring book is shown to have blank pages. Magically, black and white circus pictures…
The Magic Lamp (a.k.a. the Comedy Bulb) is an excellent gag item. To all appearances this is a…
Show a ball resting in the vase. Cover it and push on the top - it magically drops out the…
Confetti is fun, especially at weddings, parties, winning games. With a flick of the wrist…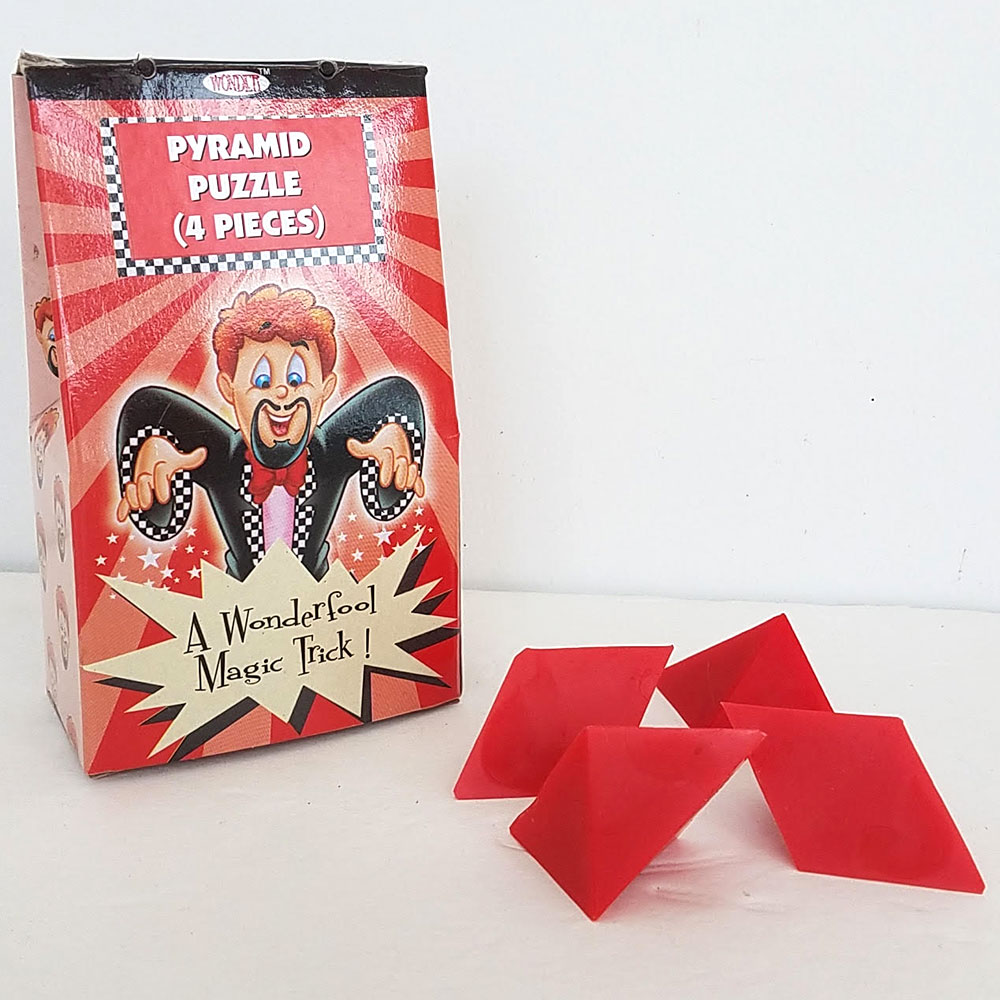 Consists of four odd shaped molded plastic parts. A perfect pyramid can be formed…
People will not believe their eyes! Here is just one of the possible…
A wonderful precision made plastic box with a drawer. Vanish cigarettes, pins,…
Celebrating 103 Years in Service to Magic and Novelty Shops and Dealers Around the World
We Offer a HUGE Range of Wholesale Magic, Novelties and Jokes
At D. Robbins, the House of E-Z Magic, we promise to provide our partners with:
World class customer service
Competitive wholesale pricing for any budget
Same day or next day shipping on most orders
Expert product advice on all things magic and novelty related
Special Order services
A wide selection of magic for the beginner through the seasoned pro
An enormous selection of jokes and novelties
We supply Magic, Novelty and Toy retailers, online stores, amateur and performing magicians, party clowns and bulk buyers with thousands of different items. We import, export and distribute most major lines of Magic Tricks in all mediums for performing magic on Stage, Close-up, Pocket and via Mentalism.
D. Robbins has Magician Supplies and Accessories, Magic Books, DVDs, and Magic Sets. We are the publisher of the bible of learning magic, The Tarbell Course in Magic, in its full 8 Volume, 103 lesson Indexed Set. We also have Jokes and Novelties, Costumery, Playing Cards and inexpensive items for Giveaways.
From stage illusions like the Head Chopper to novelties like the Rubber Chicken, we can supply your store with the items you need at prices designed to maximize your profits and your customers' satisfaction.
At family-owned D. Robbins & Co., your satisfaction is our success.