Our Magic
Featured Product
Looks like you know what, but when gently stretched and released, it will sail long distances. Made…
A boxed set of 3 different colored plastic cups approximately 3" in height and 4 pom pom balls…
One of the most clever close-up penetration effects in a long time. A die locked securely into a…
You'll love the shocked faces on your audience when you show them your personal…
A deluxe model of a very popular effect, with engraved miniature mummies and sarcophagus. The…
A large die explodes into 8 tiny dice! Place the large metal die into the bottom of the crystal…
A magic wand is probably the first prop every magician buys. The standard magic…
Magician shows a handsome clear plastic rod with six different colored gems on it.…
A brass tube and solid steel ball are offered for examination. The ball is LARGER…
The Coin Slide resembles a drawer with a slide just big enough to take a coin and…
This small box can be made to appear full of items, or entirely empty as the performer wishes. Made…
A ball disappears from, penetrates through, and reappears in the vase. Supplied…
A clear capped capsule with a black die inside is given a shake. The die…
By David Robbins. 80 large pages of over 100 easy to do tricks for parlor and…
This is an excellent beginner's set. You can do everything with it that you…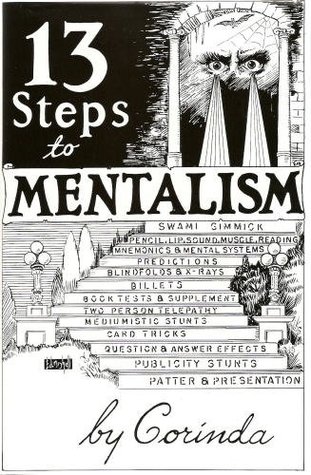 Known throughout the world, Tony Corinda has been acclaimed as inventor, writer, and teacher of…
A short piece of rope passes through a plastic frame. The center of the frame…
A 3 card monte effect with an offbeat climax. Performer displays…
Great gag! Loads of fun! Put the roll in the bathroom, user can't tear toilet paper off roll!
The latest update of this classic trick. A revision of Al Stevenson's 75 tricks book, with over…
A classic fun trick! Carry this with you at all times. Three cards are shown and turned over. The…
Everyone wishes they can make money spring up from nowhere. You can do just…
A single die magically changes spots when it is pushed through a small plastic…
This is a real crowd pleaser! The audience will be amazed as they watch as coins penetrate…
Two poker chips are shown. One black and one white. One chip is held…
Now organize all of your gimmicked cards and packet tricks. These great little…
The best for conjuring purposes. Fold up small, expand instantly, no substitute…
Allow your audience member to cut the deck as they please, it won't…
The Tarbell Course in Magic, an 8 volume set of magic books, is widely considered…
This is a deck of 25 Poker Size cards with the Rhine (Extra Sensory Perception)…
Place your finger inside the "bloody" tube...then show your friends (or enemies) that a pin has…
This assorted style gaff deck will match your standard poker size Bicycle Rider deck. Each deck…
The ITR is one of the most potent devices in the miracle worker's bag of tricks. It makes…
Change a playing card in a clear plastic sleeve into a completely different card, instantly!…
A very easy item where the magician shows a pad of blank papers on both sides.…
Magician shows a die in the palm of his hand. He closes his hand and moves a…
Special soft plaited white cotton rope 12 yards (36 feet) long, with a soft…
The step-by-step instructions in this book will give you all the details on how to perform…
When you take a "bite" out of the cookie you can make it look like a piece of the…
The amazing magic coloring book is the easiest trick around. Flip the pages showing they are…
Classic Rider Back box # 807 with poker sized cards, and standard index for all…
A high-quality Linoid finish makes Tally-Ho® playing cards the premiere choice…
Celebrating 103 Years in Service to Magic and Novelty Shops and Dealers Around the World
We Offer a HUGE Range of Wholesale Magic, Novelties and Jokes
At D. Robbins, the House of E-Z Magic, we promise to provide our partners with:
World class customer service
Competitive wholesale pricing for any budget
Same day or next day shipping on most orders
Expert product advice on all things magic and novelty related
Special Order services
A wide selection of magic for the beginner through the seasoned pro
An enormous selection of jokes and novelties
We supply Magic, Novelty and Toy retailers, online stores, amateur and performing magicians, party clowns and bulk buyers with thousands of different items. We import, export and distribute most major lines of Magic Tricks in all mediums for performing magic on Stage, Close-up, Pocket and via Mentalism.
D. Robbins has Magician Supplies and Accessories, Magic Books, DVDs, and Magic Sets. We are the publisher of the bible of learning magic, The Tarbell Course in Magic, in its full 8 Volume, 103 lesson Indexed Set. We also have Jokes and Novelties, Costumery, Playing Cards and inexpensive items for Giveaways.
From stage illusions like the Head Chopper to novelties like the Rubber Chicken, we can supply your store with the items you need at prices designed to maximize your profits and your customers' satisfaction.
At family-owned D. Robbins & Co., your satisfaction is our success.