Our Magic
Featured Product
Clear plastic box has a slot in the top. Any coin put inside can not be removed by others, but you…
Magician displays three ropes of three different lengths. The ropes are folded and stretched..…
These streamer coils enable the magician to produce a long multi-colored chain of paper from the…
The magician displays a piece of rope about 30" long coiled over his hand. He stretches the rope…
More puzzle fun. A pair of nails are twisted around each other, and can not…
4 Easy to do tricks! For beginners, includes: Cups and balls, Lots of spots card, Savings box and…
Each printed box includes 4 Easy-To-Do Tricks and illustrated instructions. …
Magician shows a handsome clear plastic rod with six different colored gems on it.…
An old favorite. Bicycle Mini Decks are once again available in red and blue…
A gimmicked deck for hundreds of tricks. Cards are shown all different, yet you can force a card,…
A ball disappears from, penetrates through, and reappears in the vase. Supplied…
Instant manipulation. Secret gimmicks to produce and vanish coins at your fingertips. Looks like…
An innocent appearing popcorn size box is shown empty on all sides. Performer then produces…
You will surely be the life of the party when you walk into the room wearing a necktie with this…
A cube with six different colored spots is placed into an opaque box and closed.…
This is an excellent beginner's set. You can do everything with it that you…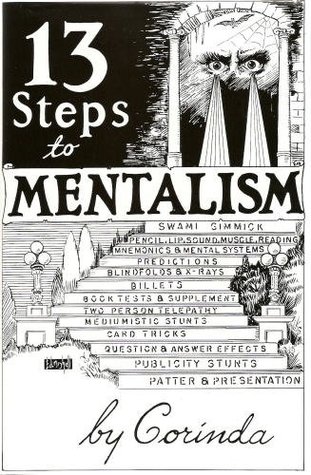 Known throughout the world, Tony Corinda has been acclaimed as inventor, writer, and teacher of…
A playing card is selected and shuffled in the deck. The performer claims he will make it rise to…
A popular puzzle, easy when you know how and impossible when you don't. A borrowed bill is dropped…
12 paper flowers with strings. 3.75" height x 3" width.
The latest update of this classic trick. A revision of Al Stevenson's 75 tricks book, with over…
Performer shows three separate pieces of rope, each of a different size. There is…
A small note pad that can be shown all blank, or completely printed, as you wish. Flip the pages…
A vanished coin appears in the middle of a magic ring. You can use the outfit supplied (two magic…
Mouth or hand production coils, 1 dozen coils per box, 50 ft each. Produce yards of white ribbon…
The Magic Coloring Book is the perfect effect for children's shows. A large coloring book is…
The change wallet is a simple mechanical prop that will exchange, vanish or…
A large plastic needle with a thread loop fixed to one end is looped through the…
Inside this book you will find 50 different effects including: Silks from Nowhere, Paper to Money,…
Magical color changing chips! Two chips are shown with black spots on both sides.…
The step by step instructions in this book will give you all the tips and tricks…
The magician shows a silk and changes it into a walking stick, or makes it appear…
Here is a tool that's extremely useful in magic: a neodymium magnet! This magnet is ideal for…
A very easy item where the magician shows a pad of blank papers on both sides.…
The magician displays a rainbow colored box that holds a deck of cards. The box…
The magician puts some pieces of colored tissue paper into his mouth. The pieces of paper seem…
New alien version!
Place the metal rod through the hole and press the lever. The…
Audience selects a card. The magician takes the card face down and bites it. You can…
A deck of cards is removed from a sleek plastic case. A playing card is…
A small plastic box that just fits inside a larger one is removed. After a magic pass, the larger…
A piece of colored rope about 40" long is displayed and coiled over the magician's hand to prove…
High quality nose and specs, this includes a big soft rubber on a durable eyeglass frame with…
Show a ball resting in the vase. Cover it and push on the top - it magically drops out the…
A high-quality Linoid finish makes Tally-Ho® playing cards the premiere choice…
An endless list of possibilities for this trick, the folding quarter. A…
The magician makes your favorite animal character appear, without first being told…
The best way to store your money! An object appears to be floating in this…
Ordinary poker size cards for use with magic tricks, etc. Poker sized deck…
The magician shows a box with some holes on its base and lid,…
A card selected by the audience is placed behind your back. It…
This trick comes complete with an instruction manual detailing five extraordinary uses for Slush…
The magician displays two pieces of board with holes in the middle,…
This is a self working, visual magic effect which is a treat to the eyes of even a…
A coin, trapped between clear pieces of plastic, secured with rubber bands,…
Five strings. Can you find the lucky one? Let your spectator win or…
Celebrating 103 Years in Service to Magic and Novelty Shops and Dealers Around the World
We Offer a HUGE Range of Wholesale Magic, Novelties and Jokes
At D. Robbins, the House of E-Z Magic, we promise to provide our partners with:
World class customer service
Competitive wholesale pricing for any budget
Same day or next day shipping on most orders
Expert product advice on all things magic and novelty related
Special Order services
A wide selection of magic for the beginner through the seasoned pro
An enormous selection of jokes and novelties
We supply Magic, Novelty and Toy retailers, online stores, amateur and performing magicians, party clowns and bulk buyers with thousands of different items. We import, export and distribute most major lines of Magic Tricks in all mediums for performing magic on Stage, Close-up, Pocket and via Mentalism.
D. Robbins has Magician Supplies and Accessories, Magic Books, DVDs, and Magic Sets. We are the publisher of the bible of learning magic, The Tarbell Course in Magic, in its full 8 Volume, 103 lesson Indexed Set. We also have Jokes and Novelties, Costumery, Playing Cards and inexpensive items for Giveaways.
From stage illusions like the Head Chopper to novelties like the Rubber Chicken, we can supply your store with the items you need at prices designed to maximize your profits and your customers' satisfaction.
At family-owned D. Robbins & Co., your satisfaction is our success.