Our Magic
Featured Product
A rubber dove can be used in many magic situations. As a production item, you can…
The magician displays a piece of rope about 30" long coiled over his hand. He stretches the rope…
Magician displays a piece of rope about 30" long. Rope is coiled over magician's hand to prove it…
4 Easy to do tricks! For beginners, includes: Cups and balls, Lots of spots card, Savings box and…
A ring can penetrate into the rope amazingly! Drop "in" the ring from the top or…
A magic wand is probably the first prop every magician buys. The standard magic…
Magician shows a handsome clear plastic rod with six different colored gems on it.…
A brass tube and solid steel ball are offered for examination. The ball is LARGER…
By Rob Roy, 31 mystifying tricks which can be performed at a moment's notice with…
A gimmicked deck for hundreds of tricks. Cards are shown all different, yet you can force a card,…
A clear capped capsule with a black die inside is given a shake. The die…
The magician explains that he has taken out an insurance policy against failure.…
A little plastic mouse is placed on your hand. Suddenly it begins to move around,…
You show the spectators a cardboard frame with a large window in it. Through the window…
This paper vanishes before your eyes. It's amazing! Every trace of evidence is completely…
A cube with six different colored spots is placed into an opaque box and closed.…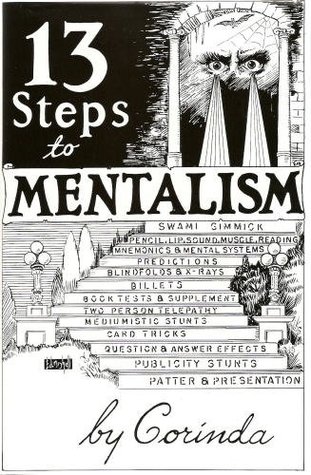 Known throughout the world, Tony Corinda has been acclaimed as inventor, writer, and teacher of…
A short piece of rope passes through a plastic frame. The center of the frame…
Make a flower blossom at the end of a barren stalk, or make a flower vanish from…
This one always gets 'em. It looks so real, you'll fool yourself! Silver colored plastic nail.
The Parrott Tarot Deck is a deck of 82 cards, based on the Rider-Waite Tarot Deck,…
The purse frame is used by clowns, magicians and coin workers alike. There is only a frame, and…
The latest update of this classic trick. A revision of Al Stevenson's 75 tricks book, with over…
With this set of cards magician can quickly tell any chosen number or someone's age, from 1 to 60,…
Tear up the Chinese laundry ticket and hold the pieces together for a moment. A…
You take a small pom pom and place it into your pocket. In one second, it is found to be under a…
A small note pad that can be shown all blank, or completely printed, as you wish. Flip the pages…
Authentic looking "fake" props are very important to every magician. Here is one…
The Magic Coloring Book is the perfect effect for children's shows. A large coloring book is…
Two clear plastic pouches are seen to be holding black cards. One card is blank on…
Magician very freely shows a small plastic doll of a nude blonde which he places into a small…
A small easy to carry (fits in your pocket) visual effect, that makes a big…
Magical color changing chips! Two chips are shown with black spots on both sides.…
This particular magnet has the shape of a one Euro coin, but it is only 1 mm thick…
Here is a tool that's extremely useful in magic: a neodymium magnet! This magnet is ideal for…
A very easy item where the magician shows a pad of blank papers on both sides.…
When you take a "bite" out of the cookie you can make it look like a piece of the…
The Magic Lamp (a.k.a. the Comedy Bulb) is an excellent gag item. To all appearances this is a…
Genuine leather black coin purse from Goshman, measuring 2.5 inches wide at the base and 2.25…
A classic comedy prop, where water can be made to flow out at will…
Celebrating 103 Years in Service to Magic and Novelty Shops and Dealers Around the World
We Offer a HUGE Range of Wholesale Magic, Novelties and Jokes
At D. Robbins, the House of E-Z Magic, we promise to provide our partners with:
World class customer service
Competitive wholesale pricing for any budget
Same day or next day shipping on most orders
Expert product advice on all things magic and novelty related
Special Order services
A wide selection of magic for the beginner through the seasoned pro
An enormous selection of jokes and novelties
We supply Magic, Novelty and Toy retailers, online stores, amateur and performing magicians, party clowns and bulk buyers with thousands of different items. We import, export and distribute most major lines of Magic Tricks in all mediums for performing magic on Stage, Close-up, Pocket and via Mentalism.
D. Robbins has Magician Supplies and Accessories, Magic Books, DVDs, and Magic Sets. We are the publisher of the bible of learning magic, The Tarbell Course in Magic, in its full 8 Volume, 103 lesson Indexed Set. We also have Jokes and Novelties, Costumery, Playing Cards and inexpensive items for Giveaways.
From stage illusions like the Head Chopper to novelties like the Rubber Chicken, we can supply your store with the items you need at prices designed to maximize your profits and your customers' satisfaction.
At family-owned D. Robbins & Co., your satisfaction is our success.