Our Magic
Featured Product
Clear plastic box has a slot in the top. Any coin put inside can not be removed by others, but you…
The magician displays a piece of rope about 30" long coiled over his hand. He stretches the rope…
Objects placed on a card can be floated up! Show a card to the audience and borrow…
A large die explodes into 8 tiny dice! Place the large metal die into the bottom of the crystal…
Magician shows a handsome clear plastic rod with six different colored gems on it.…
A brass tube and solid steel ball are offered for examination. The ball is LARGER…
An excellent gag item. The contents are so sizzling, that this book bursts into flames as you open…
This slick new model of the fabulous LOTA BOWL will be a great addition to your…
An extremely economical model of one of the greatest close up effects of all times. A matchstick…
A wallet is placed on the table. A spectator is asked to name his/her favorite Queen. The cards…
This is an excellent beginner's set. You can do everything with it that you…
Here is a neat little book that's ideal for magicians who want to introduce a card gambling theme…
Huge 3" diameter metal zinc burnished Kennedy Half Dollar, made to…
Hugard and Braue are undisputed authorities on card tricks. The Royal Road…
By Ralph Wichmann. This is a most unusual book, there is nothing else like it in…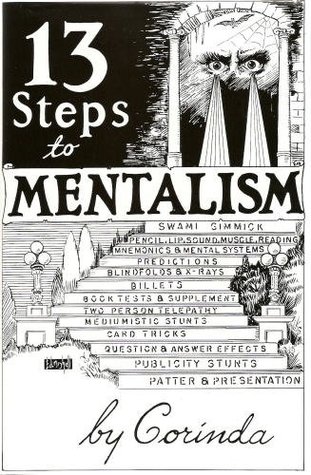 Known throughout the world, Tony Corinda has been acclaimed as inventor, writer, and teacher of…
A change device for flat card and paper items. Far superior to other change…
Place a coin inside the box and put on the lid, locking it in place. Eight spikes are pushed…
A 3 card monte effect with an offbeat climax. Performer displays…
Under which shell is the pea?? No one can guess which one as you transfer the pea secretly!
You can tell the number that the audience selected, when the die is put into a double…
You will look like a real monster with these realistic looking horror teeth.…
The latest update of this classic trick. A revision of Al Stevenson's 75 tricks book, with over…
Performer shows three separate pieces of rope, each of a different size. There is…
A coin is put into a small plastic box and covered with a lid. Five nails are pushed through the…
A small note pad that can be shown all blank, or completely printed, as you wish. Flip the pages…
This famous effect is one of the greatest offerings in magic. Balls are caused to appear and…
A compilation of 52 tricks selected from the early issue of Annemann's "Jinx" magazine, including…
Two poker chips are shown. One black and one white. One chip is held…
Now organize all of your gimmicked cards and packet tricks. These great little…
Performer shows a paddle with a picture of a hat on both sides.…
The performer shows three cards. Two of these are court cards, and one is an odd…
A superior version of the famous Floating Match effect made with Elastic IT, which will permit a…
A very easy item where the magician shows a pad of blank papers on both sides.…
A ring can amazingly penetrate the rope! Drop "in" the ring from the…
This is a cute and funny trick that will delight & amuse the spectators! …
A small coloring book is shown to have blank pages. Magically, black and white circus pictures…
The amazing magic coloring book is the easiest trick around. Flip the pages showing they are…
This Bicycle Dice set includes 10 classic Bicycle Branded Dice to accessorize your…
A transparent box is sealed tight with rubber bands. A ball placed on top of the…
A clear capped capsule with a black die inside is given a shake. The die…
This flashy handheld trick is even more sparkly than ever! Each Sparkle Flash Pad…
The Svengali Deck is a classic magic deck that can be used to perform a wide range…
Several coins are openly placed on the magic tray. When they are…
Celebrating 103 Years in Service to Magic and Novelty Shops and Dealers Around the World
We Offer a HUGE Range of Wholesale Magic, Novelties and Jokes
At D. Robbins, the House of E-Z Magic, we promise to provide our partners with:
World class customer service
Competitive wholesale pricing for any budget
Same day or next day shipping on most orders
Expert product advice on all things magic and novelty related
Special Order services
A wide selection of magic for the beginner through the seasoned pro
An enormous selection of jokes and novelties
We supply Magic, Novelty and Toy retailers, online stores, amateur and performing magicians, party clowns and bulk buyers with thousands of different items. We import, export and distribute most major lines of Magic Tricks in all mediums for performing magic on Stage, Close-up, Pocket and via Mentalism.
D. Robbins has Magician Supplies and Accessories, Magic Books, DVDs, and Magic Sets. We are the publisher of the bible of learning magic, The Tarbell Course in Magic, in its full 8 Volume, 103 lesson Indexed Set. We also have Jokes and Novelties, Costumery, Playing Cards and inexpensive items for Giveaways.
From stage illusions like the Head Chopper to novelties like the Rubber Chicken, we can supply your store with the items you need at prices designed to maximize your profits and your customers' satisfaction.
At family-owned D. Robbins & Co., your satisfaction is our success.