Our Magic
Featured Product
You'll love the shocked faces on your audience when you show them your personal…
The magician displays a piece of rope about 30" long coiled over his hand. He stretches the rope…
Performer picks up a book and reads out from it. Suddenly the book bursts into…
The Magnetic Card Box is a classic utility device that can be used to make cards…
A ring can penetrate into the rope amazingly! Drop "in" the ring from the top or…
A magic wand is probably the first prop every magician buys. The standard magic…
Magician shows a handsome clear plastic rod with six different colored gems on it.…
An old favorite. Bicycle Mini Decks are once again available in red and blue…
Practical Mental Effects without a doubt is the most popular book ever written on the subject.…
You show the spectators a cardboard frame with a large window in it. Through the window…
A cube with six different colored spots is placed into an opaque box and closed.…
This is an excellent beginner's set. You can do everything with it that you…
Soft cover book, 5.5" x 8.5" pocket book size, with 48 printed pages…
Hugard and Braue are undisputed authorities on card tricks. The Royal Road…
Two pieces of different colored tissue paper are placed together and torn into several smaller…
A plastic fake pencil is put in a plastic case. The center of the case slides out…
A short piece of rope passes through a plastic frame. The center of the frame…
With a wave of your hand, ALL the crayons in a box full of 'em disappear in an…
The classic Mirror Glass, useful for dozens of productions, vanishes or changes,…
A king, queen and jack are shown. The cards are put face down. The spectator is…
A card is freely selected and shuffled back into the deck. The deck visibly cuts…
The Applause Card or Applause Sign, is an extremely popular bit of business for any performer, when…
A popular puzzle, easy when you know how and impossible when you don't. A borrowed bill is dropped…
The magician takes a box from his pocket. The box has a cut out window on top and…
The Spider Thread 2 pack contains two Spider Thread spoolers, each…
Devious trick! Insert one of the colored tablets into your faucet stem and watch as the water…
Great gag! Loads of fun! Put the roll in the bathroom, user can't tear toilet paper off…
Fill with water and squirt your friends! Large authentic looking flower. Hours of fun.
The latest update of this classic trick. A revision of Al Stevenson's 75 tricks book, with over…
The performer correctly predicts the top and bottom colors of a stack of multi color chips…
An incredible animation effect. Performer removes a dollar bill from his pocket or wallet, and…
Anything that is placed inside the cute little chest with the dragon image on its…
Performer shows three separate pieces of rope, each of a different size. There is…
A wooden block threaded on two lengths of shoelaces is held securely by a spectator. After a magic…
Performer displays a picture of a lady, places it on a card, and magically the…
Magician can magically produce a beautiful feather flower from an empty pot! Show…
A 50 foot bundle of white soft cotton rope, ideal for all your rope tricks,…
The Magic Coloring Book is the perfect effect for children's shows. A large coloring book is…
You tuck a silk handkerchief into your closed hand. After rubbing the silk between…
The performer displays a folded newspaper, opens it out, and thumbs through the…
This is a handy mini-size (4" x 5.5") version of the magic coloring book effect. Flip through the…
4 Easy to do tricks! For beginners, includes: Ball Vase, Coin Base, Thumb Trick and Two Card Change.…
We have several models of the Coloring Book, and this version with pictures of Cute Magical…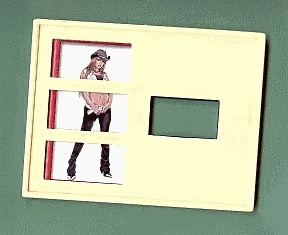 The performer displays a picture of a lady and a plastic frame with four cut out windows. The…
Performer displays a picture of Charlie Chaplin. He gestures, and Charlie's head magically floats…
A superior version of the famous Floating Match effect made with Elastic IT, which will permit a…
Here is a tool that's extremely useful in magic: a neodymium magnet! This magnet is ideal for…
This is a miniature version of the Lota Bowl, made in plastic.
Being a miniature version,…
A very easy item where the magician shows a pad of blank papers on both sides.…
Performer places the small cube in the box and closes the doors. He tilts the box…
Show a card front and back to your audience. Toss the card up and it instantly changes…
The step by step instructions in this book will give you all the tips and tricks for performing…
The Magic Lamp (a.k.a. the Comedy Bulb) is an excellent gag item. To all appearances this is a…
Show a ball resting in the vase. Cover it and push on the top - it magically drops out the…
Outdoor lovers will instantly fall in love with this…
Show your audience a white die inside a transparent…
Imagine your victim's surprise when you pretend to squirt them with…
A small coloring book is shown to have blank pages. Magically, black and white circus pictures…
Celebrating 103 Years in Service to Magic and Novelty Shops and Dealers Around the World
We Offer a HUGE Range of Wholesale Magic, Novelties and Jokes
At D. Robbins, the House of E-Z Magic, we promise to provide our partners with:
World class customer service
Competitive wholesale pricing for any budget
Same day or next day shipping on most orders
Expert product advice on all things magic and novelty related
Special Order services
A wide selection of magic for the beginner through the seasoned pro
An enormous selection of jokes and novelties
We supply Magic, Novelty and Toy retailers, online stores, amateur and performing magicians, party clowns and bulk buyers with thousands of different items. We import, export and distribute most major lines of Magic Tricks in all mediums for performing magic on Stage, Close-up, Pocket and via Mentalism.
D. Robbins has Magician Supplies and Accessories, Magic Books, DVDs, and Magic Sets. We are the publisher of the bible of learning magic, The Tarbell Course in Magic, in its full 8 Volume, 103 lesson Indexed Set. We also have Jokes and Novelties, Costumery, Playing Cards and inexpensive items for Giveaways.
From stage illusions like the Head Chopper to novelties like the Rubber Chicken, we can supply your store with the items you need at prices designed to maximize your profits and your customers' satisfaction.
At family-owned D. Robbins & Co., your satisfaction is our success.